Recycling donated bikes to raise money for charity.

We are a volunteer run organisation, started in autumn 2014 with the help of some Lottery funding.  We now  have a growing team and have been busy fixing up donated bikes.  The bikes we sell go through a detailed safety check and are fixed up where repairs are needed to bring them to full working order ready for sale.  You can see details of the charities we support with the proceeds we make here.
The bikes aren't fully refurbished beyond essential repairs so we can sell them at reasonable prices.  We have bikes ranging from toddler to adult size and we take donated bikes and spare parts in any condition – we don't let anything go to waste!
How to buy a bike:  All sales are by appointment in our yard.  You can see all the bikes that are available on the website.  If you let us know a preference we can reserve a bike for you for your appointment (no obligation to buy).  Please get in touch by email (Contact us) or leave a phone message.   The bikes are all stacked tightly in small cellars so it isn't possible to just drop in and browse.  We are adding more bikes every week as we fix them up so keep watching if you don't see what you are looking for.

Bikes to donate: If you have bikes you want to donate message us and we will let you know when someone will be there to take them in.   We can collect if you are local (in town). Please don't leave bikes unattended as we have unfortunately had a few thefts recently that we caught on CCTV.  Thanks!
Thanks so much for your support.
Feel free to leave us a message on – 01423 593103.
News…
Picks of the week – hybrids

Hybrids mean lots of different things to different people.  We have fast ikes with flat bars and disc brakes, basic bikes and fully equipped town bikes with racks and mudguards.
Contact us to make an appointment if there are any you would like to try.  Click here for the list.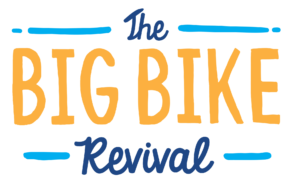 Big Bike Revival 2023
We are looking forward to another year of Big Bike Revival where we help you get your bikes back on the road.  We will be running a series of free Dr Bike sessions outside our gate where you can walk up with your bike and we will be offering advice, adjustments and simple repairs for free.  The dates are:
Wednesday 24th May 1000-1200
Thursday 25th May 1000-1200
Saturday 27th May 1400-1600 (Half Term)
Wednesday 31st May 1000-1200 (Half Term)
Thursday 1st June 1000-1200 (Half Term)
Saturday 3rd June 1400-1600 (Half Term)
Sunday 25th June 1000-1600 at Ripon Green Fair in Ripin Marketplace – last one this year!
Please pass the word!
Hire out our fun bikes for outdoor events!
We now have our own fleet of fun bikes and can hire these out for events locally.  We will deliver them with a team to supervise activities.  Pricing from £250 + VAT for 1/2 day within Harrogate / Knaresborough.  Get in touch to find out more.