Our Vision
Bringing unwanted bikes that would otherwise be scrapped or be wasted back to life to become good basic transport at affordable prices.
Raising money for charities who support those elsewhere in the world who have nothing and supporting local needy causes with subsidised or donated bikes.
Providing cheap transport in the form of  basic bikes to promote cycling locally.
Sharing bike maintenance skills.
Building a community of like- minded people.
How do we do that?
We are a team of volunteers with a workshop in the basement of Westcliffe Hall recycling donated bikes
We also make craft products from worn out bike parts – nothing goes to waste!
We run events to promote cycling and sell fixed up bikes
We aim to be entirely volunteer run with no overhead costs so that all proceeds go to charitable causes rather than just sustaining the project.
We eat a lot of cake!
What we don't do
Compete with local bike shops by selling new bikes and accessories or offering repair and maintenance services
We don't haggle – our prices are reasonable and not negotiable.

Background
The project started as a fund raising exercise for a charity gap year.  A few people donated bikes and it grew from there.  The gap year is some time ago now and there have been ever more donated bikes to be fixed up and sold for charity.  The word has spread and this seems to have caught the local imagination – clearing old bikes from back sheds and helping good causes at the same time.
We are now part of Kairos Network Church community, with a welcome to all, building a community of people serving together.
Who benefits?
We aim to donate all the proceeds of the bikes and crafts we sell to charitable causes:
Raising money for ambulances and hospital equipment for needy communities in eastern Europe and beyond.

Enabling, empowering & supporting differently-able people in the UK and overseas, creatively.
The project in Peru we are sponsoring:
In2Out is a faith-based community chaplaincy committed to supporting young people leaving prison to reduce reoffending and live more fulfilled lives. Several of the young people they have worked with have volunteered in our workshop.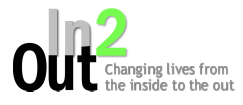 Our Ambitions
Running bike clinics where people learn to fix their own bike.
Providing basic maintenance training events.
Donating basic bikes to local needy causes.